Are you ready to find out more about one of the most impressively tough bike racks on the market? Well, get ready to see if the Kuat bicycle rack is the right one for you and your needs.
You have probably seen or used a Kuat bike rack in the past, especially if you're a keen biker and own a car. These racks are unique and stand out from their competitors.
The best bike racks come in a variety of styles, functions, and designs. They should give you what you need. This is exactly what Kuat bike racks offer.
One bike rack, in particular, is the Kuat NV 2.0. This has an innovative and attractive design that makes transporting your bike far easier than ever before. If you're a professional biker or bike regularly, the Kuat NV 2.0 could be ideal.
This bike rack sits at the top end of Kuat's hitch rack collection. It boasts a premium build but also has a large price tag to match.
The Kuat NV 2.0 has an array of impressive features that are designed to work with a range of different bike sizes and styles. As with most Kuat bike racks, this is durable and reliable, even when used consistently in wet and muddy conditions.
Through extensive testing, we found that the two-bike model provided quality and excellent performance that is hard to beat. Just try not to look at the price yet!
Before we get ahead of ourselves, we should review the bike rack first and see how it fares against its competitors! Below is a comprehensive guide to the Kuat NV 2.0 bike rack. We will be looking at the pros and cons of these racks to discover if they offer everything a keen biker requires.
OUR TOP PICK
Set up
With many bike racks, the mere thought of installing them to your car can be daunting. Some have so many little parts that can be difficult and frustrating to assemble. Thankfully, there is no such problem with the Kuat NV 2.0. This bike rack is supremely easy to assemble and attach to your car. Once you get the rack parts out of their box, you will have to install the front and rear tire trays.
This is done by tightening up the bolts, then attaching the pivot lever, and finally securing the Trail Doc repair stand.When you come to mount the rack to your vehicle, you must do so in its stowed position. Lift it up so it is in line with your hitch before sliding the hitch pin through the hitch and rack.
Next, secure this on the opposite side with the lock that is included.You can turn the knob at the back of the rack to tighten the rack's overall connection. This will limit and even prevent any swaying or movements as you drive. This whole process can be done in approximately 20 minutes. Not bad. Straight from the box and on the car.
This leaves more time for biking! Don't worry about figuring it out for yourself. All of the instructions and hardware needed are provided.
You can also take advantage of numerous videos online that detail the installation process.Although relatively simple to assemble and attach, there is one drawback. The Kuat NV 2.0 comes with an additional two-bike add-on. This allows you to add another two bikes to your rack.
However, this can be a little tricky to attach. You must ensure it lines up exactly before tightening two extremely long bolts. As you can probably guess, this is pretty time-consuming and frustrating.
The good news is, the first time is the hardest! The more you do it, the easier it will be.Now for the main part which is loading on the bikes. After the frustration of adding the two-bike add-on, you will be pleased to know that this part is quite easy.
You just need to lift your bike onto the rack. Make sure the front wheel is in the cradle. Then, swing the ratcheting arm over the front wheel before moving it down over the tire until it clocks into a locked position. When securing the back tire, move the rear wheel strap straight under the rear axle. Next, feed this through the buckle of the rack and securely tighten it. Once this is done, you're ready to go!
Removing the bikes is also straightforward. Just reverse the steps above. Simple!
Overall performance
If you have a history of using bike racks, you have probably encountered some unreliable, weak models. You won't get any problems like these with the Kuat NV 2.0. Compared to its competitors, this has to be one of the most reliable, well-built, and stable designs on the market.
Because it is a premium option, you should expect all of the best features. And that is exactly what you get. Included are an intuitive and fully functional tilt lever, the ability to support a wide range of bike sizes and styles, and a snug connection between the vehicle and the bike rack.
We were extremely impressed by the construction of the Kuat NV 2.0 too. Even at high speeds down highways or on uneven off-road terrain, the rack remains secure. If the rack is secure, your bikes are too.
This is due to the durable and hard-wearing materials used throughout the build of this rack. Not only is it a solid piece of equipment but it looks great too. While style isn't the most important aspect of a bike rack, seeing this on the back of your car just oozes class.
Why? Maybe it's down to its unique and carefully considered design and size.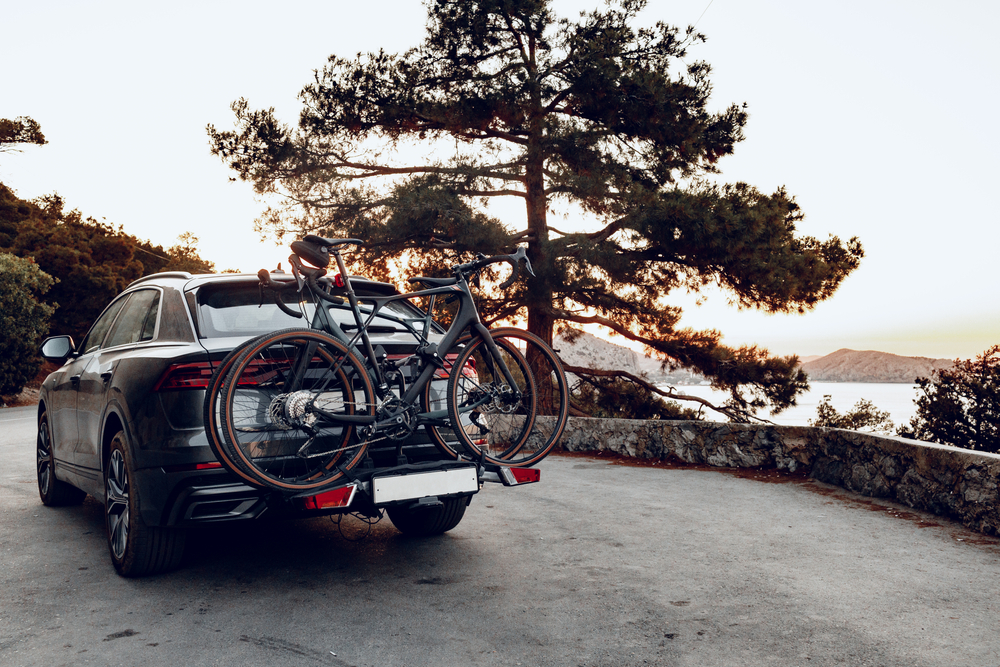 Bike and weight capacity
The Kuat NV 2.0 can support a variety of different bike styles and sizes. As with most platform-style hitch racks, this can carry two bikes.
Of course, you can attach two more with the add-on included. Other two-bike extensions are available if required as well.
When it comes to the wheel sizes this rack can accommodate, you can fit regular road and mountain bikes on with 20 to 29-inch wheels. However, you will need another wheel adaptor for 20 to 24-inch bikes.
The NV 2.0 can handle two 60-pound bikes while the two-bike add-on is rated to support another 40 pounds per bicycle. To get a good idea of this capacity, we should compare it to some of its competitors such as the Thule T2 Pro XT and 1UP USA's Equip-D Double.
The T2 Pro XT has a max weight of around 60 pounds per bike while the Equip-D Double can handle up to 50 pounds a bike. It is down to what you need. If 60 pounds is enough, then the Kuat NV 2.0 is ideal.
For most mountain bikes and road bikes, the NV 2.0 is perfect. And you can be sure your bike will be secure at all times when strapped into this impressive rack.
Durability
Kuat's first-generation Sherpa bike rack had quite a few issues in terms of its build and durability. Fortunately, the NV 2.0 has been vastly improved.
This new and improved bike rack is made from premium materials such as a mostly metal construction with a stylish and glistening metallic coating. This results in a classy and elegant finish.
Even in extremely wet conditions, the NV 2.0 stands up to the elements. The only issue reported has been a front ratcheting arm that sticks out a little during release. But in the grand scheme of things, that is mightily impressive.
If you're looking for a robust, durable, and hard-wearing bike rack, the Kuat NV 2.0 won't disappoint. Although expensive, you should get a fair few years out of this trustworthy piece of kit.
What we like
The rack's construction quality. With an almost full-metal build, an array of features, and a glossy finish, this has everything you look for in a premium rack.
Extremely easy to assemble and load. It's just as easy to unload when required.
Offers wonderful reliability and stability. Even in extreme conditions such as rain, snow, and heavy winds, this rack stood up and remained secure.
Stylish looking. With a range of colors to choose from, you should be able to find one that suits your vehicle.
What we didn't like
A ratcheting arm tends to stick and becomes difficult to release. However, this has no impact on the security of your bikes.
This is a very expensive rack with prices starting over $700. This is before any add-ons and extras. Although premium, this is extortionate.
Although many extras and add-ons are generally a positive thing, there may be too many with this. Not everyone needs these extras and the more there are, the more chance of things going wrong. One example is the Trail Doc that has been known to not lock properly to the rack.
The two-bike add-on can be time-consuming to install. This can be a frustrating and laborious task but online videos and included instructions help a lot.